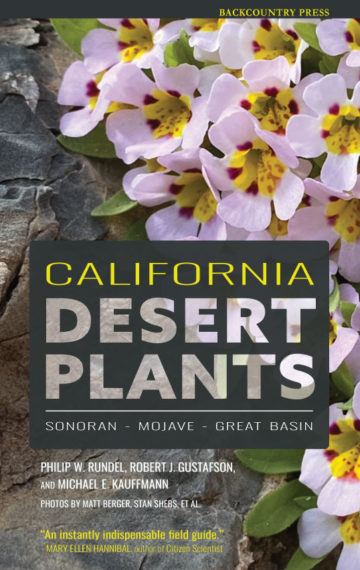 $34.95 (paper) - $18.95 (eBook)
Publisher:

Backcountry Press

Edition:

First

Available in:

Paperback, PDF

ISBN:

978-1-941624-14-2

Published:

May 11, 2022
Paperback
eBook
Paperback and eBook
Ecology and Diversity
Sonoran – Mojave – Great Basin
---
The desert areas of California include the northwestern portion of the Sonoran Desert, the largest part of the Mojave Desert, and the western margin of the Great Basin. A key ecological
feature of the remarkable California desert region is winter-rainfall coupled with dry summers. This rainfall regime, a gradient of temperatures from low- to high-elevations, and a complex array of geologic substrates has produced highly specialized habitats for plant survival. California Desert Plants explores these vast and intimate desert landscapes through their diverse, colorful, and dynamic flora.
California Desert Plants includes:
Over 400 color photographs of plants and landscapes
Descriptions and photos of dominant plant species
Overview of plant adaptations to desert environments
Discussion of major desert habitats
Table of contents:
Chapter 1 Desert Environments
Chapter 2 California Deserts
Chapter 3 Ecological Strategies of Desert Plants
Chapter 4 Creosote Bush Scrub and Joshua Tree Woodlands
Chapter 5 Cactus and Succulent Scrub
Chapter 6 Wash Woodlands and Arroyos
Chapter 7 Desert Wetlands: Palm Oases, Riparian Woodlands, and Marshes
Chapter 8 Saline Habitats: Playas, Saltbush Scrub, and Alkali Sinks
Chapter 9 Sand Dunes
Chapter 10 The Flowering Desert
Chapter 11 Great Basin Shrublands and Woodlands
Chapter 12 Conserving the California Desert
With photos by
Matt Berger, Robert Gustafson, Stan Shebs, Jim Morefield, Michael Kauffmann, Julie Evens, Morgan Stickrod, Joey Santore, Dylan Neubauer, Robert Childs, Mark Bailey, Kjirsten Wayman, James Andre, Naomi Fraga, Moe Donnelly, Jim Bartel, Mike Splain, Ryan Henson, Chris Clarke, Jon Rebman, Tim Messick, Duncan Bell, Jesse Miller, David Greenberger, Karen Orso, Scott Harding, Allison Poklemba, and Phil Rundel.
---
Book Reviews:
"Another gem from Backcountry Press. Those mesmerized by California's desert biomes will fall happily and deeply into California Desert Plants. An instantly indispensable field guide, this book reveals not only the photosynthesizers but the geology, hydrology, and atmospheric spheres that help co-create the landscape. This is a trip through beauty and time." – Mary Ellen Hannibal, author of Citizen Scientist:  Searching for Heroes and Hope in an Age of Extinction.
"California Desert Plants, Ecology and Diversity is a rich, nuanced, and accessible exploration plant relationships and adaptations. This book gives the context in which plants make sense, and helps us to see relationships between species, across families, and in response to place. The text is clear and filled with fascinating information put in a context that helps you understand desert systems. Thoughtful illustrations, photographs, diagrams and maps clearly support and enhance the lessons. This book will help you build a deeper sense of place and an understanding and appreciation that promotes stewardship and care for desert landscapes. – John Muir Laws, nature journaling innovator and author of The Laws Guide to the Sierra Nevada
"I am marveling at California Desert Plants! This book is packed with incredible information and beautiful images—from the ecosystem level to individual species. It will be cherished and enjoyed by both the seasoned ecologist and the budding botanist. A must have for any desert lover." – Naomi Fraga, Director of Conservation Programs, CA Botanic Garden
"Finally a book that summarizes all the botanical natural history of the deserts of California by combining ecology, taxonomy, and identification. Read it as you wander through California's deserts and these places will never appear the same again." – Jenn Yost, Botany Professor, Cal Poly San Luis Obispo
"An amazing achievement, California Desert Plants is far more than a field guide—this essential resource distills the authors' deep, nuanced knowledge of desert plant ecology and natural history, and presents it in a beautifully compelling way." – Bruce Baldwin, Curator of the Jepson Herbarium
"It's hard to imagine a better general guide to California desert vegetation than this one. It's beautifully illustrated, clearly and interestingly written, and botanically erudite." – David Rains Wallace, author of Chuckwalla Land: The Riddle of California's Desert.
"The California deserts are a floristic region of global significance and natural splendor, a concept well recognized by the authors of California Desert Plants. This is not just a picture book of plants, but rather a comprehensive guide to understanding these plants through an ecological lens." – Tasha La Doux, U.C. Granite Mountains Desert Research Center
"The authors have outdone themselves in providing a richly expansive overview of the ecological regions, landforms, and adaptations of desert plants residing in southeastern California. Their compilation of photographs and descriptive text make this an indispensable guide." – Julie Evens, Co-author of Manual of California Vegetation