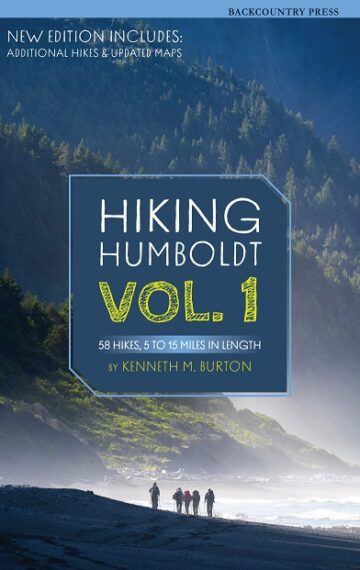 $24.95 - $15.95
Publisher:

Backcountry Press

Editor:

Michael Kauffmann

Edition:

Second

Available in:

Paperback, PDF

ISBN:

978-1-941624-23-4

Published:

September 1, 2023
Buy Paperback ($24.95)
Buy eBook ($15.95)
Buy Paperback and eBook (PRESALE $24.95)
Presale Ends 9/10/2023
---
58 DAY HIKES IN NORTHWEST CALIFORNIA
Second Edition with Fresh Maps and Additional Hikes for 2023:
Primeval forests harboring the world's tallest trees.
Sea cliffs, pristine beaches, and towering coastal sand dunes.
Mountain prairies, meadows, and vistas.
Rivers, lakes, lagoons, and bays.
Bears, elk, seals, otters, and birds galore.
And solitude – lots and lots of solitude.
Humboldt County offers all this and much more to the intrepid hiker.
Hiking Humboldt Volume 1 presents descriptions, directions, accurate maps (including elevation profiles), and photos of hikes that are 5-15 miles in length throughout Humboldt County.
Flip through the book with us…
---
Ken Burton's Hiking Humboldt, Volume 1, is an indispensable guide to the longer trails of Humboldt County. He combines excellent maps and photos with clear and concise information. Hats off to Ken for helping us get out of chairs and get our boots on the ground. —Jerry Rohde, co-author of Best Short Hikes in Redwood National and State Parks.